Columbia Gorge's WA Shore – Sun, Scenery, Good Wine and Open Roads
The less-visited Washington side of the Columbia River Gorge is quiet in the fall, with plenty to see and do including hikes, winery visits, windsurfing and more.  ByTan Vinh  Seattle Times staff reporter
ALONG HIGHWAY 14, COLUMBIA RIVER GORGE — This river canyon looks majestic from the side of the road, with the sun outlining the Cascade Range in crimson hue and kayakers drifting lazily along the calm water below. It's quiet on this recent Tuesday morning. It's quiet later in the afternoon. And the day after.
It's often this way in the fall, or at least much less hectic than Oregon's side of the Gorge, locals say.
The magnificent Gorge stretches 80 miles between Oregon and Washington. Oregon is considered the sexy side, with tens of thousands of tourists annually visiting Multnomah Falls, Vista House and the windsurfing town of Hood River. Even the salmon-watching on the Oregon side of Bonneville Dam draws bigger crowds.
But the Washington side is no less spectacular — and more serene. The river isn't flanked by freeway as on the Oregon side. It's mostly a two-lane road where you can cruise in solitude on long stretches of asphalt, the banks of the Columbia a stone's throw away.
On a recent road trip, I took the side less traveled, driving to Beacon Rock State Park, then to the belly of the Gorge, where the sun shines long and the vineyards are many, and finally to the desert landscape around Maryhill, getting acquainted with the many faces of this natural wonder.
Beacon for recreation
The leaves were feathering in the air near the town of Stevenson as I approached Beacon Rock State Park, named for an 840-foot volcanic plug that you can't miss on the banks of the Columbia. The monolith is almost two-thirds as high as the Rock of Gibraltar.
Surrounding this landmark are more than 20 miles of hiking trails, including two new trails and seven new campsites, with 30 more campsites planned in the near future.
I see a dozen hikers in the parking lot, grabbing their jackets and tying their shoes, preparing to hike a mile on a cliff-hugging trail to the top of Beacon Rock. But park ranger Karl Hinze had other plans for me. We were hitting nearby Hamilton Mountain, the park's highest peak, to view Beacon Rock and the 5,100-acre park from above.
Deer, elk, porcupines and cougars inhabit this forest of Douglas fir and cedar. There also have been countless reports of Bigfoot sightings in this area over the years. On our hike, Hinze looked for big, furry creatures of a different kind: black bears. He had spotted a mother and a cub weeks before and had hoped to catch another glimpse. "Wouldn't that be cool?" he said.
Actually, no. We hiked by thickets of huckleberries and elderberries. From atop, by the sign, "Summit, Hamilton Mtn., Elev. 2480," I could look down and see the mighty Bonneville Dam, built under President Franklin Roosevelt, along with Cape Horn and Crown Point.
"You can catch little snippets of the Gorge if you drive on the road," Hinze said. But you can't get the vastness and beauty of it "until you get up."
Towns to visit, too
Nor should you miss the Columbia Gorge Interpretive Center Museum, nearby in Stevenson, to get a sense of how centuries of flooding carved the Gorge.
Many children — and some of their parents — remain more interested in Bigfoot sightings. Skamania County passed a law banning the hunting of Bigfoot in 1969 — on April 1. Some chuckle. But believers take this Bigfoot refuge thing seriously. I met Joe Robertson, owner of Stevenson's Sasquatch Coffee Roasters, who often deals with passers-by curious about the hunting ban. He tells them, "I don't know if it's a misdemeanor or a felony to shoot Bigfoot. It's not like anyone has been tried in court."
Back on Highway 14, as I head east toward Lyle and White Salmon, the road seems wider, with 300-foot cliffs farther back from the roadside.
Fewer evergreens obstruct the postcard view of the river. What a river, flowing 1,200 miles from the Canadian Rockies to the Pacific Ocean, and once so turbulent that it swallowed up countless canoes and fishermen, until humans tamed it with dams.
Southern exposure
As I squinted at the view, it was easy to appreciate one big difference between the Oregon and Washington sides of the Gorge: On Washington's south-facing slopes, it's sunnier.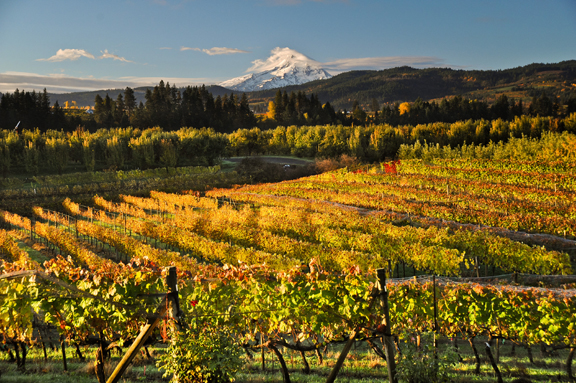 "We are right on the fringe of the desert. We are where the desert and the foothills of the Cascades come together," said Syncline Wine Cellars' winemaker James Mantone, whose vineyards and farmhouse sit high in the hills outside of Lyle.
Mantone, 38, kayaked here in the 1990s and knew he wanted to settle his family and cellar here once he realized the Gorge's wine potential. "We're in the dry zone. You get a lot of sunshine," he said. "Our winter is more mild and warmer. It's moderated by the maritime influence," ideal for his European-style syrahs — savory, herbaceous and lower in alcohol. Seattle Times wine columnist Paul Gregutt calls Mantone one of the most talented winemakers in Washington.
It's a more intimate wine experience in the Gorge, with mostly boutique wineries, where the winemaker, his spouse or his dog will greet you when you pull up in the driveway.
The exception is Maryhill Winery, the Chateau Ste. Michelle of the Gorge, with its 3,000-square-foot tasting room, covered picnic area and an amphitheater that features concerts by the likes of Lyle Lovett and Natalie Merchant.
I headed that way, nearing the east end of the Gorge, pulling over at Milepost 93 to peek at the Celilo Falls site, once one of the world's largest salmon fisheries, now obscured beneath deep waters behind The Dalles Dam. Interpretive panels tell the stories of this famed trading post for the Yakama, Nez Percé, Warm Springs and Umatilla tribes.
Terrific views
It was around here, on April 22, 1806, that explorer William Clark scaled the highest butte on this side of the river and remarked in awe at the view of mountains running south from Mount Hood "as far as I could see."
A century later, business magnate Sam Hill also gawked and declared it the most magnificent sight in the world, reminiscent of the Rhine River.
In 1907, Hill bought 5,300 acres and erected a Beaux Arts mansion that is now the Maryhill Museum of Art, named after his daughter, Mary.
Perched high on a bluff, the museum houses one of North America's most significant collections of the works of French sculptor Auguste Rodin. Also featured: a collection of small-scale mannequins fashionably dressed in post-World War II attire, once showcased at the Louvre in Paris.
In 2012, the museum expanded with a new 25,500-square-foot wing — grand ambition for a remote museum surrounded by scrublands and looking out on a lonely river.
It was one of many surprises along the road. I left Maryhill's sculpture garden and circled back, retracing my route on Highway 14, cruising with the windows down, with hardly any cars in front or behind, nothing but a gentle breeze and the steady hum of my car on the open road.
WHERE
The Columbia River Gorge, in the Columbia River Gorge National Scenic Area, is about a 3 ½-hour drive from Seattle. From Interstate 5 in Clark County, take I-205 south to eastbound Highway 14. Best days to visit: Thursdays-Sundays when most restaurants, wineries and attractions are open.
ATTRACTIONS
Get a good historic overview of the area at Columbia Gorge Interpretive Center Museum, 990 S.W. Rock Creek Drive, Stevenson; open 10 a.m.-5 p.m. daily, $5-$7, 800-991-2338 or www.columbiagorge.org.
About 9 miles west of Stevenson, at Milepost 35, Beacon Rock State Park has more than 20 miles of trails spread across 5,100 acres, with camping, hiking and water recreation. Most popular is the steep, one-mile hike up Beacon Rock. 509-427-8265 or http://parks.state.wa.us/474/Beacon-Rock.
Dog Mountain Trail, off Highway 14 at Milepost 53, is one of the favorite hikes on the Washington side, especially during the spring for wildflowers. Six miles round trip. Seewww.fs.fed.us/gpnf/recreation/trails/locations/mta-0147-dog-mountain.shtml.
Maryhill Museum of Art is off Highway 14 just west of U.S. Highway 97 and the Biggs Rapids-Sam Hill Bridge. Open 9 a.m.-5 p.m. daily March 15-Nov. 15. The museum closes for the season after Nov. 15. 509-773-3733 orwww.maryhillmuseum.org.Stonehenge Memorial, off Highway 14 three miles east of the Maryhill Museum, was also built by tycoon Sam Hill. The replica of England's prehistoric Stonehenge — this version intact — was a memorial to local war dead.
WINERIES
There are dozens of wineries in and around the Gorge in Washington and Oregon, enough to plan a wine getaway (see www.columbiagorgewine.com). Pick up a wine map and brochure at any winery or visitor's center. Note that many wineries open only Thursday-Sunday.
There are about 30 wineries on the Washington side. The most efficient approach is to hit the cluster of wineries around Lyle (you'll see signs for wineries) and other tasting rooms along Highway 14. The two biggest draws areSyncline Wine Cellars near Lyle (www.synclinewine.com) and Maryhill Winery (www.maryhillwinery.com) at Maryhill.
LODGING
A sampling of accommodations:
.
Carson Mineral Hot Springs Spa & Golf Resort, Carson. Modern hotel rooms ($75-$85) and historic bathhouse with mineral baths, massages and more. 800-607-3678 orwww.carsonhotspringresort.com.
Columbia Gorge Riverside Lodge, 200 S.W. Cascade Ave., Stevenson. Modern log-cabin rooms, as cheap as $79, are steps from the water. Located between main rail line and the river; you will hear trains at night. 509-427-5650 orwww.cgriversidelodge.com.
The Lyle Hotel, 100 Seventh St., Lyle. $85 rooms, shared bathrooms. A historic hotel, with train noise. 800-447-6310 orwww.lylehotel.com.
DINING
TRAVELER'S TIP
By late November, many wineries and restaurants either reduce hours or close for the winter.
MORE INFORMATION
The website for Columbia River Gorge National Scenic Area is a great source of tips on history and attractions. See www.fs.fed.us/r6/columbia.